Posted on November 10, 2016
Maplestory News: Thanksgiving Day Events
Yesterday, Nexon released a good news for Maplestory, the Thanksgiving Day Events!
Wednesday, November 9 – Tuesday, November 29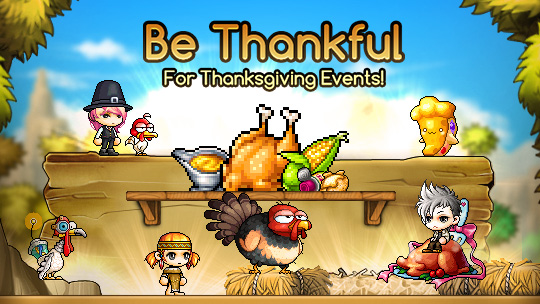 Thanksgiving!
Turkeys are starting to appear near Henesys, Mu Lung, Leafre, and other major towns! If you hunt these birds, you can find all sorts of fun items. To begin, accept the 'Thanksgiving' quest from the star event notifier on the left side of the screen. Then start hunting! These turkeys have been stuffed with lots of great rewards. Dress up in the spirit of the season with a Pilgrim Hat or Maplehontas equip. Restore needed HP and MP with delicious Thanksgiving food including Roasted Turkey, Cranberry Sauce, and Corn. You may even get your hands on a Roasted Relaxer Chair, a Special Potential Scroll, or a Special Bonus Potential Scroll!
Food Fighter
Young magician Bianca has accidentally turned the Thanksgiving dinner into living monsters! Join the Food Fight to help her catch the delicious creatures. To begin, accept the '[Food Fight] Revolting Food' quest from the star event notifier on the left side of the screen. You can enter the Food Fight Hall up to three times a day. Once inside, you have twenty minutes to complete all thirty stages, and the tasty monsters get tougher the further you go! The rewards differ depending on how many stages you clear. See how far you can get and earn Drop Coupons and useful buffs!
Turkey Egg Hunt
NPC Cody wants you to find him some Turkey Eggs! Luckily, there are Turkeys appearing in certain locations in Maple World including Henesys, Magatia, Leafre and more. Turkeys drop three different colors of eggs depending on your level range. Talk to Cody to see what kind of Turkey Egg he expects you to find. Then go hunt some monsters and start collecting those eggs! You can turn in your eggs to Cody for special rewards, which differ depending on which color egg you turn in! You can earn delicious restorative items, Potential Stamps and Scrolls, a Turkey Pet, a Nebulite Box, and more!
Seek out turkeys and be rewarded with yummy items! What are you thankful for this year? More Maplestory news we will post here in Maplestoryer.com, you can keep eyes close in our site.
Do you need to fast get Maplestory 2 Mesos?If you want to get enough mesos quickly, maplestoryer.com is a efficient store to provide you with a huge variety of older google look for currency trading. Our submission is fast. After deal, you can receive what you buy in some minutes. While you buy, we truly suggest you complete up appropriate current email deal with.